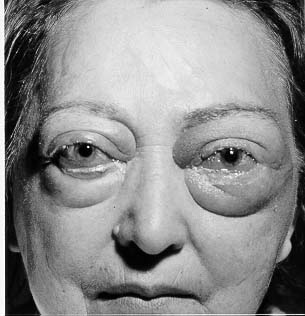 In the book, Ragtime, Doctorow refers to the District Attorney of New York City, having "protuberant eyes". The adjective, protuberant, by definition is referred to as "thrusting out from a surrounding or adjacent surface often as a rounded mass". It comes from the English word of protuberance which comes from the Latin word, protuberare. The first part of the word "pro" means forward while "tuber" means lump, swelling. The Latin word tuber connects back to another Latin word "tumere", which means to swell. People who tend to have protruding eyes are actually suffering from an illness, known as thyroid eye disease, or also known as Grave's disease.
Thyroid eye disease or Grave's disease is caused from issues of the thyroid gland that end up affecting the eye. Symptoms usually tend to occur when thyroid hormone levels are too high, but can also happen when they are too low. The main outcome of Grave's disease is proptosis or protrusion of the eye, affecting the eyeball as well as the eye socket.
Many other people, even famous people, suffer from this disease that attacks the thryoid gland. Actor, Marty Feldman, an English writer and comedian was known for his bulging eyes; a main sympton of Grave's disease. He had his own show on the BBC called Marty, appeared in The Adventures of Sherlock Holmes Smarter Brother, and acted in Mel Brooks' Silent Movie. Another actor, Don Knotts, also had "protuberant eyes" because he also was a victim of Grave's disease. Knotts was noted as in actor in Three's Company, The Andry Griffith Show, Matlock, and many other films and shows.
Citations:
http://www.uic.edu/com/eye/LearningAboutVision/EyeFacts/ThyroidEyeDisease.shtml
http://www.merriam-webster.com/dictionary/protuberant
http://www.etymonline.com/index.php?term=tuber&allowed_in_frame=0
http://www.oddee.com/item_88803.aspx