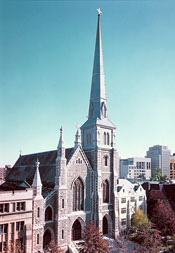 In 1832 the Church of Christ formed by the Irish population of New Haven was founded as the first Catholic Church in New Haven, and the second in Connecticut.  In 1848 a fire destroyed Christ's Church on York Street and Milford Turnpike Road in New Haven.  Father James McDermot was a priest of the Diocese of Boston and went to Connecticut and became the resident pastor of New Haven.  When father McDermot first moved to Connecticut he was assigned to ministry duty for New Haven, Bridgeport, Norwalk, Derby, Waterbury, Meriden, and Middletown (Western Connecticut.)  This church was built for the approximately 200 Catholic residents of New Haven.  When the church burned these people had nowhere to go, so, in 1948 Father Phillip O' Reilly turned the Congregational Meeting House of New Haven into a catholic church dedicated to St. Mary.
Although most of the stone that Saint Mary's church is made up of is trap rock from West Rock in New Haven, Stony Creek Granite was used for a number of small jobs around the church.  For example, the window jambs, doorjambs, sills, stings, belts, water tables, and quoins are all composed of Stony Creek Granite from the Granite Island Quarry. Stony Creek Granite is composed of potassium feldspar, plagioclase feldspar, quartz, and biotite.  Each of these materials contributes to the pink, white, brown, and black mosaic of color that is Stony Creek Granite.
St. Mary's is one of many ecclesiastical buildings designed by architect James J. Murphy.  Murphy was an architect who dedicated most of his career in the 19th century to New England Roman Catholic churches.  Murphy, like many of the parishioners of St. Mary's church, was an Irish American that emigrated from where he was born, in his case Tipperary, Ireland, to the United States.  Upon arriving in the states in 1852 Murphy got his first job at a firm owned by a fellow Irish architect, Patrick C. Keely.  Murphy later went on to marry Keely's sister in-law and eventually he became a partner in the firm, and it was renamed "Keely & Murphy."  Keely and Murphy's firm only lasted from the mid 1800's to 1875, and after the firm disbanded Murphy continued working at his own pace from his own practice.   In 1876 Murphy applied to the American Institute of Architects. Though Murphy had offices in Boston, Massachusetts, and Providence, Rhode Island, he designed buildings all over Rhode Island, Massachusetts, Connecticut, and Maine.
In the 1880's and 1890's Murphy hired his nephew, Ambrose Murphy to shadow and apprentice him while he worked.  In 1900 Ambrose Murphy went on to partner with Frank Hindle forming their own firm Murphy and Hindle.  In 1907 Murphy and Hindle added a partner, Benjamin Wright, and the firm became known Murphy, Hindle, and Wright Architects. Murphy, Hindle & Wright Architects broke up 1917, due to the difficulties of maintaining a business in a war torn country, and the men each went their separate ways.  Many of Murphy, Hindle & Wright Architects buildings, like James Murphy's Saint Mary's Church in New Haven, were of the Gothic Architectural style.
St. Mary's church was completed in 1874 and is considered gothic revival style architecture.  Over the years experimentation and experience have forced architects to vary the characteristics of Gothic architecture slightly.  Some may argue that Saint Mary's is Romanesque, however it is in fact Gothic Revival.  Gothic architecture is similar to Romanesque architecture however, there are some definite variations.  Gothic architecture is characterized by pointed arches, flying buttresses, and ribbed vaulting.  The leafy capitals on the interior of the church also hint to its Gothic origin.  Gothic architecture deviates from Romanesque architecture mainly in its use o the concept of space.  Where Romanesque architecture embraces the heavy effect and delimited areas, Gothic architecture focuses on a more spacious effect of lightness and open space. Gothic architecture also is much more laminated than the dark Romanesque churches and for this reason has many more windows and much bigger windows, once again relating back to the concept of space.  Gothic churches were usually bigger and therefore were more prestigious.
The reason for building the new St. Mary's church, in a prestigious neighborhood, was because the community's Catholic population was increasing steadily and this allowed for the most social mobility.  Father O'Brien hired James J. Murphy with the understanding that St. Mary's be the most beautiful large Gothic church in Connecticut.  It was for this reason that the parish purchased land between Hillhouse Avenue and Temple Street, the current location of St. Mary's church.  Hillhouse Avenue was New Haven's finest residential neighborhoods, and for this reason St. Mary's represented the high hopes of New Haven's struggling catholic families.
Since the majority of the parishioners at the Church of Saint Mary were mainly immigrants and struggling working class families, it was difficult to fund the building of the prestigious new church.  There was a debt of $150,000 that needed to be paid off, by the congregation, and for this reason, St Mary's went more than a century without a steeple.  Regardless of the fact that it had a topless stone tower without a spire, it was a great example of the devotion of the Roman Catholics in the city.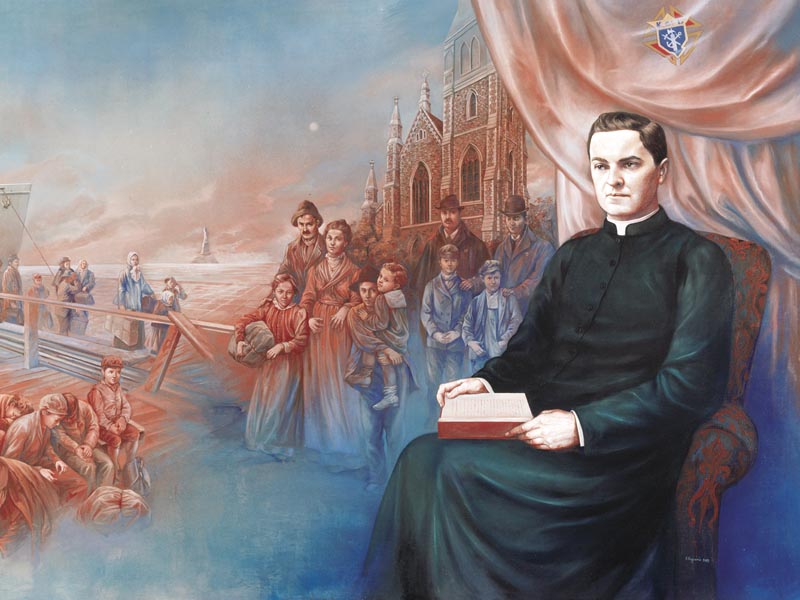 Saint Mary's church had seen many pastors and curates, but arguably one of the most influential of these was Father Michael J McGivney.  Father McGivney on October 2, 1882 organized the Knights of Columbus, the world largest Catholic fraternity, in the basement of Saint Mary's Church.  McGivney's intention for starting the Knights of Columbus was so that the widows and children of working men, and the society in general would have protection and help guiding their faith.  The Knights of Columbus was also established to give financial aid, mutual aid and assistance to its needy families.  The Knights of Columbus has grown from just a few members in the basement of the Church of Saint Mary, in New Haven to 1.8 million members in the United States, Canada, the Philippines, Mexico, Poland, the Dominican Republic, Puerto Rico, Panama, the Bahamas, the Virgin Islands, Cuba, Guatemala, and Guam.  McGivney's impact on the world is also evident in the many portraits and statues made in his honor; there is currently a statue of McGivney with a Stony Creek Granite base in the Smithsonian.  Due to his numerous contributions to the Catholic world, and his starting of the Knights of Columbus, Father McGivney is currently being looked at by a postulator to potentially become beatified (blessed) or even possibly become a saint.  A postulator is a priest or church official who is responsible for preparing and presenting enough information for a plea for a deceased person to become beatified or canonized.   In 1982 Father McGivney's grave was moved from Waterbury, CT to Saint Mary's Church, and it is now a popular site for people, especially Knights of Columbus, to come and pray for his canonization.
In 1990, "The Father Michael J. McGivney Center for Cancer Care" at Saint Raphael's hospital in New Haven opened as a tribute to McGivney's tremendous impact on the New Haven area. The Knights of Columbus has over the years provided more than three million dollars to the hospital.  A statue of McGivney currently stands in front of the building as does a plaque that reads "The Father Michael J. McGivney Cancer Center-Hamden Campus is named in honor of the founder of the Knights of Columbus, whose commitment to charity and to caring for the needy is an enduring inspiration to the Hospital of St. Raphael." 
St. Raphael's was constructed in 1907, founded by the Sisters of Charity of Saint Elizabeth, a community of nuns who's main focus is using charitable institutions to care for the poor and the sick, and also teaching the ways of the lord. Dr. William F. Verdi, along with other physicians, invited the sisters to come to New Haven to start a hospital.  It was the intention of the doctors that the hospital be a place where both medical professionals and patients could work and receive care regardless of race, creed, or color.   The hospital was meant to be a place that would extend charity to the poor, needy, and sick.  The hospital was named Saint Raphael's because he is one of the more common archangels across many faiths.   Raphael in Hebrew means "God has healed," and Raphael is the patron saint of healing and of the sick.
Saint Raphael's has a very rich history.  Once the hospital was completed it began to progress, and has continued doing so yearly.  Just a few years after construction, the hospital opened a pharmacy, an ambulance service, and a nursing school. In the 1920's Saint Raphael's opened the Saint Rita's wing (named for the patron saint of impossible causes and hopeless dreams.)  In the 1940's Saint Raphael's was a training site for World War II Cadet Nurse Corps.  Saint Raphael's had another first in the 1950's when it opened Southern New England's first radiation therapy centers.  The firsts continued into the 1960's when Saint Raphael's became the first Catholic hospital in the United States to establish a department of pastoral care.  The pastoral department consists of chaplains that represent many faiths, and the purpose of the department is to educate and provide spiritual resources to the ill, and promote hope for healing.  In the 1980's this hospital was the first in outpatient chemotherapy/transfusion unit in Connecticut. The hospital continues to be a top notch treatment facility open to all regardless of race, color, or creed.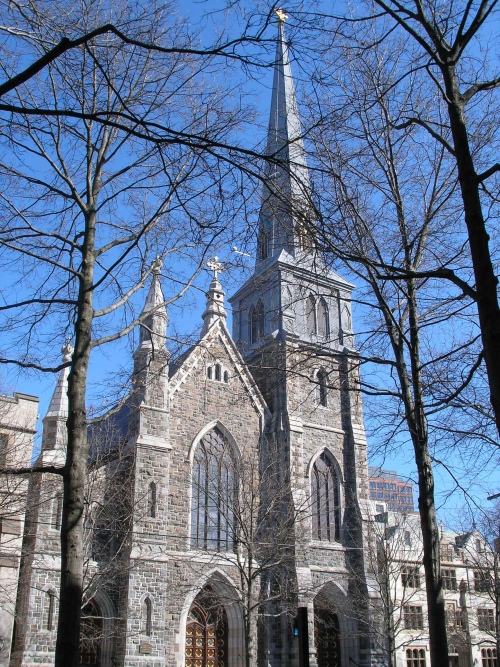 Both Saint Mary's Church and Saint Raphael's hospital help promote unity and tolerance in New Haven.  Both facilities were built with the understanding that America was a place filled with many people from many different backgrounds, both cultural and socioeconomic, and both of these places understood that no one should be ostracized because of their background.
Saint Mary's continues today to be a widely diverse congregation.  Many families of the immigrants that moved to New Haven years ago when Saint Mary's was first built are still parishioners at Saint Mary's because of its beautiful atmosphere and the sense of community it exudes.
For more information:
DeFord, Deborah. Flesh and Stone: Stony Creek and the Age of Granite. Stony Creek, CT: Stony Creek Granite Workers Celebration/Leete's Island, 2000. Print.
http://historicbuildingsct.com/?tag=catholic&paged=3
http://nhpt.org/index.php/site/district/hillhouse_avenue_historic_district/
http://northfieldgranite.com/samples/ccs-granite3.shtml
http://quarriesandbeyond.org/states/cn/cn-structures.html
http://virtualglobetrotting.com/map/st-marys-church-new-haven/
http://www.enotes.com/topic/James_Murphy_(architect)
http://www.infoplease.com/ce6/ent/A0858436.html
http://www.rihs.org/mssinv/MSS1110.htm
http://www.stmarys-priory.com/aboutstm.htm
http://www.fathermcgivney.org/mcg/en/influence/tomb/index.html
http://collections.si.edu/search/results.jsp?q=record_ID:siris_ari_19946
http://www.stmarys-priory.com/hillhouse/oldstmary.html