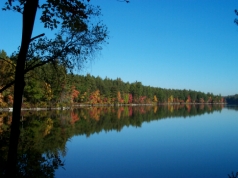 Massabesic Lake is an Abnaki name that means "near the great brook" or "place of much water".
Massabesic Lake is within the city of Manchester and the town of Auburn in Rockingham County of New Hampshire. The lake covers approximately 2,561 acres, or about 4 square miles. Not as large as Lake Winnipesaukee, Massabesic Lake was still inhabitated by the Abnaki Indians. The Abnaki tribe inhabiated most of northern New Hampshire. The Abnaki Indians spoke the Algonquian language which is still spoken today by some individuals in Canada. Some people in Canada are from the Abnaki ancestry line because during the 1600s, the tribes were being displaced by colonial expansion and ended up on reservations in Canada. Since the Abnaki indians retreated to Canada to avoid attacks, the British believed them to be Canadian Indians, however, they were one of the first original natives of New England.
The Massabesic Lake serves as the primary drinking water for the city of Manchester. Therefore, there a strict rules on the lake that no swimming or water activities, such as waterskiing are not allowed. However, people are allowed to boat and fish in the lake. The types of fish that can be caught in the lake are Brook trout, Rainbow trout, Brown trout, Largemouth bass, Smallmouth bass, Brown Bullhead, Chain Pickerel, Yellow Perch, White Perch, and Northern Pike.
The Massabesic Lake is also known for holding the Lake Massabesic Watershed which hosts one of the best known bike trail systems, which contains more than 13 miles of single track trails that were built. Also, the Lake Massabesic has over 20 miles of fireroads tracks which are less strenuous than the single track trails.
 Google Maps: http://maps.google.com/maps?rlz=1T4SKPB_enUS393US395&q=massabesic+lake&um=1&ie=UTF-8&hl=en&sa=N&tab=wl
Works Cited:
http://www.native-languages.org/hampshire.htm
http://www.nemba.org/ridingzone/lake_massabesic.html
http://en.wikipedia.org/wiki/Massabesic_Lake
http://www.nhfishfinder.com/massabesic-lake-5170-location.html