(Charles Dana Gibson)
THE ETERNAL QUESTION
The Eternal Question is a drawing done by Charles Dana Gibson in 1905, fully titled "Women: The Eternal Question."   Charles Dana Gibson is credited with 'inventing' the Gibson girl in 1890, a certain standard of woman possessing the 'it' factor that every woman longed for.
Gibson's father, being an artist himself, was very supportive of Charles' career choice in art..  With family support Gibson set out to peddle his sketches and in 1886 he sold his first piece to "Life" magazine.  This began his career, and for the next thirty years Gibson's sketches could be found in the magazine weekly. Gibson's career was taking off prior to the creation of the Gibson girl, but it is certain that most of his success can be attributed to his "girls." Below is a series drawings done Gibson portraying the essence of being a "Gibson Girl."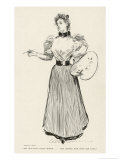 In Ragtime, Mother's Younger Brother is obsessed with Evelyn Nesbit, and has the drawing of "The Eternal Question" pinned to his wall.  While Gibson had many models as "Gibson girls," it is common belief that the woman in the drawing is that of Evelyn Nesbit, though there are always those few who claim that this is not so.  The image below illustrates the strikingly, unmistakable similarities between the Gibson girl in pose, and a photograph of Evelyn Nesbit.
Citations:
http://www.gibson-girls.com/gibson-3.html
http://giam.typepad.com/100_years_of_illustration/charles_dana_gibson_and_his_imitators/