The Church of Christ in Branford, Connecticut was built in 1901. The church was built from Stony Creek pink granite blocks by the hands of volunteer quarry workers (Deford 147). The quarry workers had used hand tools to cut apart blocks of granite. The church contains a 40-foot bell tower that is in shape of a castle. The lower walls and central bay are made of granite while the remaining walls are now shingled. They used to be stucco which means exterior walls are plastered (Deford 148). This church not only has a history behind it but a beauty as well.
Church of Christ

    The shape of the church is cross-shapped (cruciform). "Inside the cruiciform structure, the ash finish and spruce beams are accented with woodwork in a quatrefoil motif that is echoed outside (page 147)." On the right is an example of a cruciform. According to dictionary.com, a cruciform is a four-sided shape resembling a cross and is the basic design for Christian churches. Three sides of the building are covered with stained-glass windows. There are a total of ten windows, some of which were mounted after 1901. The original Sunday school room from 1901 contains nine of the ten stained-glassed windows accompanied by a fireplace (which is made of Stony Creek granite). The fireplace was needed in the classroom because the gas heater was not invented until 1940.

 Google Earth showed clear and precise images of Church of Christ. Here are a couple images along with the placemark:

The placemark is set at; 192 Thimble Island Rd. in Branford, CT.
  This image represents where Church of Christ is. Google Earth is an amazing product that gives us accurate directions and illustrations to a certain location.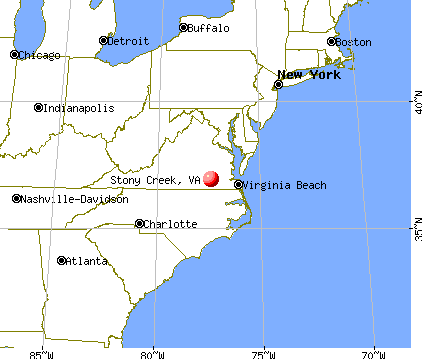 There happen to be countless Church of Christ' in different parts of America. Due to the fact the one in Branford was built in 1901, there are few pictures of the church being built. However, it still stands today in Branford and is available for pictures. Also, the immigrants and quarry workers who built it were behind in architecture compared to the rest of the world because they were limited to money and economics. The picture shown below is a layout of a Church of Christ in Virginia. It has the same ground rules as the Stony Creek church, just a different layout.
    It consists of doors, pews, rooms and walls (which every church includes). The only difference is that this church in Virginia has only had a roof renovation; whereas, Branford's Church of Christ has had several renovations. Reverend Jacobson of the Church of Christ was interviewed at 10:30 am on October 20, 2010. He stated that a "wall in the church went up in the late 60's, the roof has needed to be re-done (that is a given to wear and tear), the lighting has been repaired along with other indoor adjustments, a memorial was built and the towers were fixed."

    Reverend Jacobson is on his 33 year at the church, he started in 1977. Reverend Jacobson spoke highly about the granite, stating, "We receive many comments of our granite. People find it quite interesting; it was all cut on site when quarries were on strike…cornerstone has time capsule and there are roman coins and all sorts of coins in it." He mentioned that mass is on Sundays at 10 am and would enjoy it if newcomers came. Lastly, Reverend said there are not "formal tours but tours in conjunction with house tours." Therefore, if a tour interests you, you may want to call ahead (203-488-7827) and talk to Reverend Jacobson. Feel free to post pictures on here due to the fact transportation is an issue for me. Reverend Jacobson is an extremely nice guy who glorifies his church.
     The Stony Creek Quarry Corporation helped provide the stone to build this church (Stony Creek Architecture). "Since 1850, architects, designers and builders have sought Stony Creek Granite for its strength, workability and distinctive appearance. The old-world reliability and craftsmanship is preserved today, bringing the same timeless energy and permanence to contemporary applications," a quote from Stony Creek Quarry website (listed in Works Cited). Beyond the village of Stony Creek, the stone has expanded national fame. There are stairs, panels, pavers, quarry-cut blocks and veneer that the quarry workers helped build. Veneers are part of home foundations; such as, chimneys, walls, or exterior stairs that lead up to a front door. All of which are in the Church of Christ. Like stated in our textbook on page 147, Norcross Brothers donated the granite used for the Church of Christ during 1901-1903. According to Wikipedi.com the Norcross Brothers were "prominent nineteenth-century American construction workers who were especially noted for their work mostly in stone." Below to the left is an image from Google that is a rubble chinking detail created by the Norcross Brothers in the foundation "The Castle" which is a school in Massachusetts. Part of the rubble chinking technique was done to the granite on the sides of Church of Christ.

     In a historical news article online, published on January 8th, 1989, it is said that the New Yorkers like to vacation in the seaside villages of Stony Creek and the Thimble Islands (which has been true since the 1850's). Stony Creek, on the Long Island sound, remains hot property to this day (Libov). The citizens of Stony Creek are driven to protect their lands. Anthony DaRos, president of the Stony Creek Association and a marine contractor, had stated in the article that a dump/sewer system was supposed to be put in Stony Creek. After battles with the sewer company and the villagers, it was finally decided that the dump would not be placed there. The villagers consist of quarry workers, old-timers, and the New Yorkers. They are fragile when it comes to their land because they know how special it is.

     The construction of the Church of Christ came from the quarry workers who ended up settling in the town. Their families live in their place there to this day. The ownership of the Church of Christ lies with the Pastor and those who have expertise with the church. If you are interested in listening to a sermon from the Pastor, please go to this website: http://church-of-christ.org/sermons/Silbano.htm. It is extremely beneficial and motivating.
 Here are some YouTube video's that contain amazing views of the quarries. This will give an idea of how beautiful the neighborhood is where the Church of Christ stands. The first video about a ten minute walk through the Quarry Trails (">). As well as this video on the Thimble Islands: &feature=related">&feature=related.
 
  
 
Works Cited
Deford, Deborah. Flesh and Stone: Stony Creek and the Age of Granite. Stony Creek: Stony Creek Granite Quarry Workers    Celebration, 2000. Print.
Libov, Charlotte. "The View From: Stony Creek." The New York Times. NYTimes, 2010. Web. 14 Oct. 2010. <http://www.nytimes.com/1989/01/08/nyregion/view-stony-creek-enlisting-list-keep-community-s-charm-unusullied.html?pagewanted=all>.
"Salvation." Church of Christ. Branford Organization, 2010. Web. 13 Oct. 2010.
     <http://www.church-of-christ.ord>.
"Stony Creek Architecture." Stony Creek Quarry Corporation. Quarry, 2010. Web. 18 Oct. 2010.
     <http://www.stonycreekquarry.com/default.shtml>.
"WikiAnswers." Answers.com. Answers Corp., 2010. Web. 12 Oct. 2010. <http://wiki.answers.com/Q/When_Was_The_gas_heater_invented>.